With the discovery of fire, mankind had in its grasp an element that changed their habits, customs and needs.
Reunite around a live fire to illuminate their surroundings during night time to gather around it to share stories and transform the different ingredients.
In Tres Cuatro Cinco we are passionate about fresh ingredients, the best quality meat y the different cooking methods available through live fire. We hace selected a wide variety of premium cuts that allows us to be pioneers in the country and Dry Age them up to 90 days.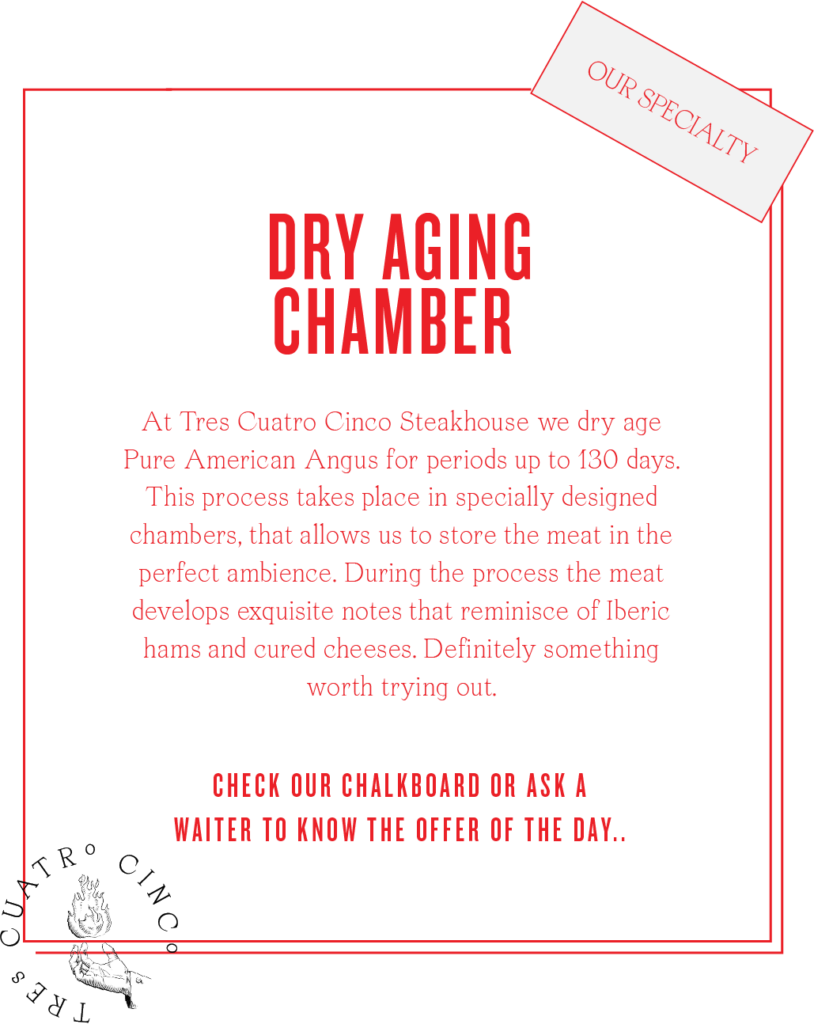 FROM OUR WOOD FIRED GRILL
American

Angus Ribeye
x 500g
American Angus
Tomahawk
x 1.3kg
American

Angus Picanha
x 300g x420g
Argentinian
New York Steak
x 300g
American Angus
New york Steak
x 500g
New York Steak 
with bone
x 900g
American
Porterhouse
x 900g
American Angus short
rib marinated "Kolgi Style"
x 650g
Hummus
Smoked chickpeas hummus, mixed american cuts, sourdough rye crackers with pumpkin and fennel seeds.
Croquettes
Smoked beef tenderloin, cold smoked tuna, beef tenderloin sashimi, yellowfin tuna sashimi, ponzu sauce.
Steak tartar
Beef tenderloin pickles, mustard, quail egg yolk, bone marrow and smoked garlic aioli. Native potato, yuca and sweet potato chips
Beef Tataki
Beef loin crusted with spices, citrus salad, asparagus cream and romesco.
Birria Tacos
Mix of american cuts, smoked chilies and vegetables broth. Pasilla chili and smoked vegetables salsa.
Wood fired Eggplant
Caramelized with miso, costeño cheese, citric salad with smoked peaches, dried cranberries, pearl tomatoes and buffalo yogurt sauce.
Catch of the Day Ceviche
Dependes of the fish of the season.
Wood Fired Catch of the Day 
Compressed watermelon, smoked peaches, roasted pineapple, basil, mint, crispy shallot.
Lomo Saltado
Kimchi fried rice, crispy potatoes.
345 Burguer
200 gr of house ground beef, cheddar cheese, cured egg yolk emulsion, house made sauce, smoked pancetta, tomatoes, house sauce.
Beef Tataki Sandwich
Beef loin, buffalo burrata, baby arugula, smoked tomato jam, caramelized onion, black garlic mayonnaise and mandarin lemon.
Grilled Octopus and Hearts of Palm Salads
Cherry tomatoes, pickled radish and red onions, green gorrdess vinaigrette.
Caesar Salad
Grilled lettuce heads, house made caesar vinaigrette, shaved grana padano, croutons.
Addition of chicken marinated in smoked onion and garlic, guajillo and chipotle chilies.
House Salad
Asian mix, orange supremes, pistachios, cherry tomatoes, pickled radish and red onions, citric vinaigrette.
Fried Potato
wedges

Wood fired
Asparagus
Wood fired Sweet Corn with house made ricotta and crispy chili oil
Fried Rice
Grilled Hearts of Palm with Tomato Tartar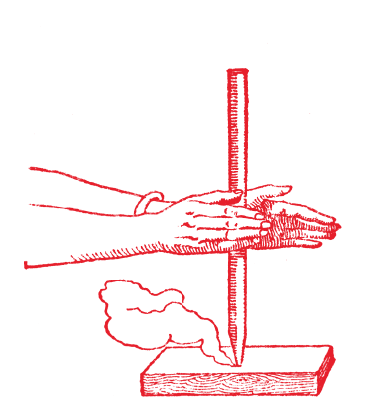 Beets textures
Smoked beet granola, vanilla ice cream, beet gel, mint foam.
Smoked Banana
Crunchy cinnamon, ice cream, pastry cream foam, sugared almonds, dulce de leche.
Spanish Style Cheesecake
Fresh Vanilla bean, smoked red fruits sauce.
Hot chocolate cake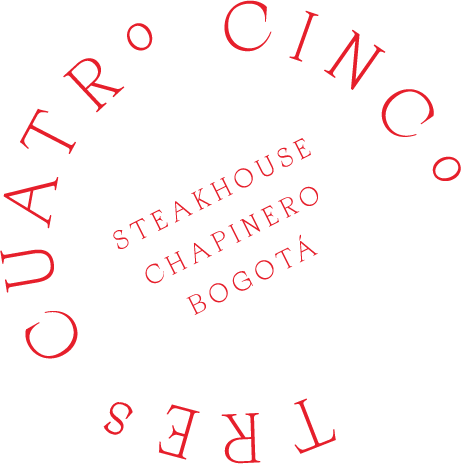 Follow us on Instagram
@trescuatrocincobta
St. 69A # 5-81
Chapinero.
Bogotá-Colombia
Hours of operation:
Wednesday – Thursday 12:00p.m – 11:00 p.m
Friday – Saturday 12:00p.m – 12:00 p.m
Sunday – Holidays 11:00a.m – 4:00 p.m
T. (57) 323.238.4660 trescuatrocincobta@gmail.com www.trescuatrocinco.com.co